Our history
Founded in Marseille in 2005, American Vintage is a timeless, colourful and creative French brand. It was after founder Mickael Azoulay's many trips to the USA that the brand's first iconic T-shirts burst into our lifestyles. American Vintage offers unique materials that invite you on a sensory journey. Subtle, authentic and predominantly natural to the touch available in a wide range of colours and prints. Pieces that you can mix and match ad infinitum, that will be with you every day, and that you'll never tire of. Neo basics mixed with signature pieces, companions for life. It's a brand that's free, sincere and instinctive, that has a presence in over 15 countries, and that allows every individual to feel good in their clothes, to dare to mix and match, and to freely express their personality.
The testimonial of the month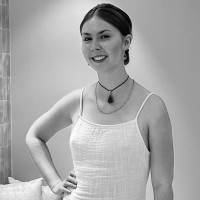 Like Amélia, Join us !
A word from the company
"American Vintage is above all a human adventure that allows each individual to express their personality, to feel stronger and to surpass themselves. Authenticity, sincerity, family spirit, challenge, freedom and autonomy are the values around which we rally. Like Marseille, where I come from, it's a cosmopolitan brand, open to the world, that brings people together."
Key figures
18

Years in existence

800

Employees, including 166 at head office

213

Boutiques around the world (France, Germany, United States, Portugal, etc.)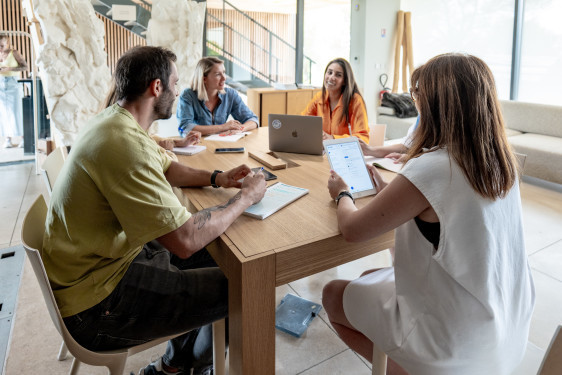 The Camp
The AMV Camp is a team of enthusiastic, multi-disciplinary experts. Working as a cross-functional department, the CAMP supports its employees and helps them to develop their skills through training. It creates and maintains links between all AMV employees. As an opportunity generator, it works to promote cohesion by acting as a driving force and facilitator. With authenticity and presence, the CAMP brings to life our values of courage, passion and surpassing oneself at the heart of our brand.
Training
Every employee in the company has an onboarding programme, sometimes mixed between the head office and the sales outlets. This is followed by face-to-face and distance training. The camp team runs masterclasses every 2 weeks, and all employees have access to them, whatever their position. At American Vintage, there are no barriers between departments, and many employees have even been able to change jobs during their training.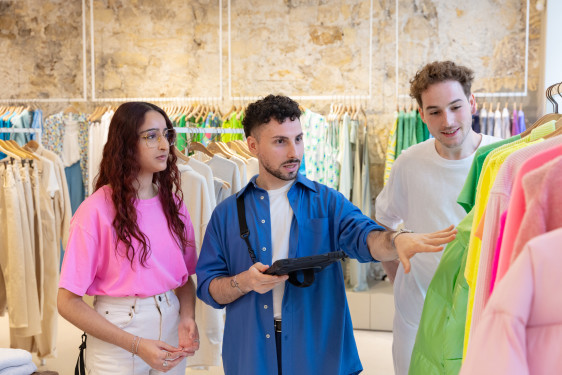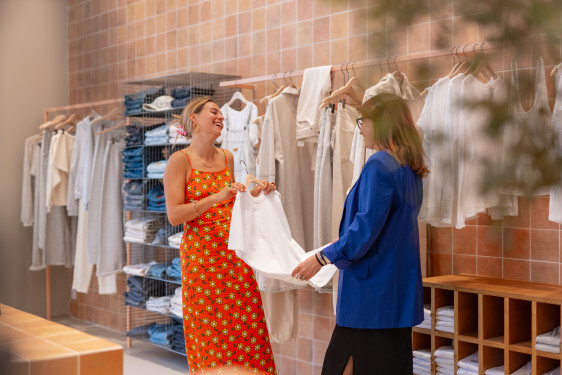 Personal development
At American Vintage, we grow. If you have the right spirit, energy and motivation, the company will be there to develop its employees. Whatever your background, whatever your skills, you learn and that's what motivates us. Our employees work in a start-up spirit, where everyone has the opportunity to express themselves and come up with new ideas. We grow by working together.
Values and commitments
A federated community, the American Vintage teams are first and foremost a free, close-knit and committed community of ambassadors, whose fundamental principles are the exchange and sharing of knowledge. A bold brand, an international, innovative and flexible company that is always moving with the times. A challenging environment, Michaël is a keen sports fan and has succeeded in developing the AMV world around these values: challenge, teamwork and surpassing oneself. A learning company, the training courses offered by American Vintage enable employees to enhance their knowledge on a daily basis. American Vintage is committed to and encourages diversity within the company and is open to adapting its jobs to people with disabilities. Please let us know your specific needs (accessibility, working hours, teleworking, etc.) so that we can create the environment best suited to your situation.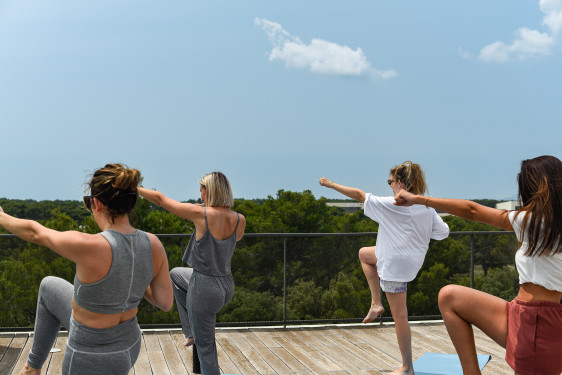 Videos
Testimonials
Working in American Vintage for the past year has been an exciting and formative experience for me. I love chic, comfortable fashion and unique colour palettes, and American Vintage provides both whilst being a good working environment. This was my first job within the fashion retail industry, and the support and friendship I got from my colleagues within the American Vintage network really helped me. I've developed great relationships with my colleagues during this time, as well as developing my own confidence and initiative in my role, going from a retail assistant to a supervisory position.
I'm Chanon SA in Copenhagen flagship store as well Men store. AMV core values is we're a family here and you can definitely feel it. AMV allowed me to be connected with customers, taught me to build relationships and make quick decisions and to become a good problem solver. It has helped me gained more confident. You are not only a sale associate, but you trained to be confident personal shopper.
'My name is Louis; I have 15 years of experience of working in retail for both high street and luxury brands. It has always been a matter of great importance for me to personally like the brand I am working for regarding brand values, the aesthetics of the collection and how well treated I would be as an employee. American Vintage have listened to my requests to help grow my store and have made me feel like a part of a family. One where everyone is included and helps each other out. No matter the situation, with the open communication the company uses, it is easy to request help or ask questions without feeling inadequate in your role. American Vintage continues to make me feel as though the choices I have made to join have proven without a doubt that I can grow and learn many things to help me in my career. I am learning every day and continue to evolve along with the company, I've even started to learn some French! …Une petit peu.'